[vc_row][vc_column][ultimate_heading main_heading="TIMELINE" spacer="line_with_icon" spacer_position="bottom" line_height="2″ line_color="#75bc25″ icon="Defaults-asterisk" icon_size="32″ icon_color="#75bc25″ main_heading_style="font-weight:bold;" sub_heading_font_family="font_family:Playfair Display|font_call:Playfair+Display|variant:italic" line_width="250″ spacer_margin="margin-bottom:50px;" main_heading_font_size="desktop:28px;" sub_heading_font_size="desktop:15px;"]A way of displaying a list of events in chronological order, make your events in your life brighter.[/ultimate_heading][/vc_column][/vc_row][vc_row full_width="stretch_row" css=".vc_custom_1484280246900{padding-top: 50px !important;padding-bottom: 100px !important;background-color: #f2f2f2 !important;}"][vc_column][ultimate_heading main_heading="The Greatest President in USA – BARACK OBAMA" main_heading_style="font-weight:bold;" main_heading_font_size="desktop:26px;" main_heading_margin="margin-bottom:10px;" sub_heading_margin="margin-bottom:30px;"]Barack Obama is the 44th President of the United States. His story is the American story — values from the heartland, a middle-class upbringing in a strong family, hard work and education as the means of getting ahead, and the conviction that a life so blessed should be lived in service to others.[/ultimate_heading][icon_timeline timeline_line_style="solid"][icon_timeline_sep time_sep_title="The childhood with family"][icon_timeline_item time_title="August 4, 1961″ title_font_style="font-weight:bold;" desc_font="font_family:Josefin Sans|font_call:Josefin+Sans|variant:700″ desc_font_style="font-weight:700;" title_font_size="desktop:18px;" desc_font_size="desktop:15px;"]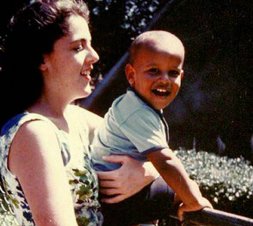 Obama was born at Kapiʻolani Maternity & Gynecological Hospital, Honolulu, Hawaii. He is the first President to have been born in Hawaii.[/icon_timeline_item][icon_timeline_item time_title="Wedding of his parents" title_font_style="font-weight:bold;" desc_font="font_family:Josefin Sans|font_call:Josefin+Sans|variant:700″ desc_font_style="font-weight:700;" title_font_size="desktop:18px;" desc_font_size="desktop:15px;"]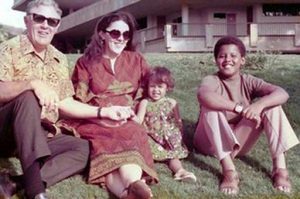 His parents, Mr. Barack Obama Sr. and Mrs. Ann Dunham, were first met in a Russian language class at the University of Hawaii at Manoa, , where his father was a foreign student on scholarship. Then, they married in Wailuku on Maui on February 2, 1961.[/icon_timeline_item][icon_timeline_sep time_sep_title="Education"][icon_timeline_item time_title="From 6 to 10 age" title_font_style="font-weight:bold;" desc_font="font_family:Josefin Sans|font_call:Josefin+Sans|variant:700″ desc_font_style="font-weight:700;" title_font_size="desktop:18px;" desc_font_size="desktop:15px;"]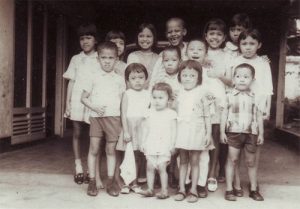 Obama attended local Indonesian-language schools: Santo Fransiskus Asisi (St. Francis of Assisi) Catholic School and  Besuki Public School. During his time in Indonesia, Obama's step-father taught him to be resilient and gave him "a pretty hardheaded assessment of how the world works.[/icon_timeline_item][icon_timeline_item time_title="From 1971 – 1979″ title_font_style="font-weight:bold;" desc_font="font_family:Josefin Sans|font_call:Josefin+Sans|variant:700″ desc_font_style="font-weight:700;" title_font_size="desktop:18px;" desc_font_size="desktop:15px;"]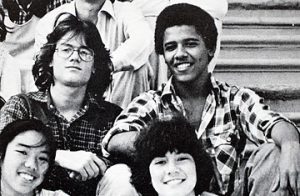 In 1971, Obama returned to Honolulu to live with his maternal grandparents, Madelyn and Stanley Dunham, and with the aid of a scholarship attended Punahou School a private college preparatory school, from fifth grade until his graduation from high school in 1979[/icon_timeline_item][icon_timeline_item time_title="From 1979 – 1981″ title_font_style="font-weight:bold;" desc_font="font_family:Josefin Sans|font_call:Josefin+Sans|variant:700″ desc_font_style="font-weight:700;" title_font_size="desktop:18px;" desc_font_size="desktop:15px;"]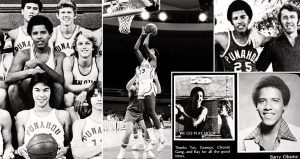 After high school, Obama moved to LA in 1979 to attend Occidental College.
In Feb 1981, Obama made his first public speech, calling for Occidental to participate in the disinvestment from South Africa in response to that nation's policy of apartheid.
In mid-1981, Obama traveled to Indonesia to visit his mother and half-sister Maya, and visited the families of college friends in Pakistan and India for three weeks.
Later in 1981, he transferred as a junior to Columbia College, Columbia University, in New York City, where he majored in political science with a specialty in international relations and in English literature and lived off-campus on West 109th Street.[/icon_timeline_item][icon_timeline_sep time_sep_title="Career"][icon_timeline_item time_title="From 1983 – 1988″ title_font_style="font-weight:bold;" desc_font="font_family:Josefin Sans|font_call:Josefin+Sans|variant:700″ desc_font_style="font-weight:700;" title_font_size="desktop:18px;" desc_font_size="desktop:15px;"]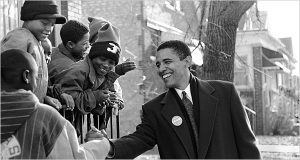 Two years after graduating from Columbia, Obama was hired in Chicago as director of the Developing Communities Project.  He worked there as a community organizer from June 1985 to May 1988.
Obama entered Harvard Law School in the fall of 1988. He was selected as an editor of the Harvard Law Review at the end of his first year, president of the journal in his second year, and research assistant to the constitutional scholar Laurence Tribe while at Harvard for two years.[/icon_timeline_item][icon_timeline_feat time_title="Nov 4, 2008 until now, the time to become the brightest President of USA" title_font_style="font-weight:bold;" desc_font="font_family:Josefin Sans|font_call:Josefin+Sans|variant:700″ desc_font_style="font-weight:700;" icon_type="custom" icon_img="3312″ img_width="250″ icon_style="advanced" icon_color_bg="#ffffff" icon_border_spacing="50″ title_font_size="desktop:20px;" desc_font_size="desktop:15px;"]He was elected the 44th President of the United States on November 4, 2008, and sworn in on January 20, 2009. After being re-elected in 2012, President Obama is currently serving his second and final term, which will end in January 2017[/icon_timeline_feat][/icon_timeline][/vc_column][/vc_row]